Screen Printing
SPEEDBALL Brand Screen Printing Sets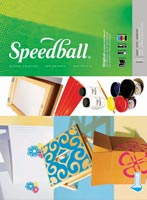 Screen Printing Kit #SP 4521, $69.99
Supplies for four creative projects are included in this Speedball printing kit. Project sheets are provided for making posters, party decorations, wood plaques and greeting cards and gift wrapping. Tools included are a 9" squeegee, frame with fabric, base, tracing vellum and 4 oz. each of screen filler and drawing fluid. It also includes 8 oz. each of permanent acrylic printing inks in black, cyan, magenta, and yellow. Instructions are also included.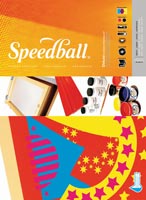 Screen Printing Deluxe Kit #HS 4522, $94.99
This kit includes project sheets for making posters, decorations, wood plaques, greeting cards, wrapping paper, T-shirts, aprons, hats, tote bags and pot holders. It contains textile inks and permanent acrylics as well as an instructional video on screen printing. Tools included are a 9" squeegee, frame with fabric, base, tracing vellum and 4 oz. each of screen filler and drawing fluid. The 8 oz. colors provided are: fluorescent pink and black textile ink and black cyan, and yellow permanent acrylic colors. Instructions are also included.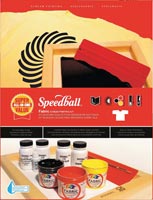 Fabric Screen Printing Kit #HS 4526, $59.99
Everything needed to learn screen printing on all kinds of fabric, including T-shirts. This kit includes a wooden screen, 9" textile squeegee, and 8 oz. jar each of black and white textile ink, a 4 oz. jar each of screen filler, drawing fluid and photo emulsion, a 1 oz. jar of sensitizer and a Speedball screen printing catalog. This set is designed for printing onto fabrics using a photographic emulsion system (i.e. you "burn" the image onto the screen with light).
All prices are subject to change, please call to confirm.
"WHICH KIT IS RIGHT FOR ME?"
Depends on how elaborate you wish to be. You can simply cut a stencil out of waxed stencil paper and place that under the silk screen. Or you can draw on the screen with Screen Drawing Fluid then apply the Screen Filler to create your screen. Or you can place your image on clear plastic or very thin paper and then use the photo emulsion process to expose that image onto the screen. (Glossing over some details here for simplification.) Each of these processes is progressively harder to get your screen back to its original "unimaged" state. And each process gives you a progressively better ability to create a detailed design.
TIPS: CLEANING THE SCREENS.
Caution! Wear rubber gloves and eye protection when handling and spraying (or onto) cleaning liquids.
Removing Screen Filler: Speedball recommends using their Speed Clean product to remove to remove their Screen Filler. This is the most effective method.
Prior to creating their own Speed Clean product, they used to recommend using "Greased Lightning" and "Mr. Clean". (These products are usually available at a supermarket or an auto supply store.) Apply to both sides of the screen, scrub with a nylon bristle brush. Apply again to both sides and let sit in a horizontal position for three to five minutes. Scrub with a nylon bristle brush while spraying with a forceful scream of hot water. If staining persists, you can apply a solution of two parts water and one part bleach with a spray bottle repeatedly until the staining is gone. Rinse completely with water.
Removing Photo Emulsion: This should be removed as soon as you are done printing, unless you want the emulsion to be permanent! One process of removal is to purchase Speedball Photoemulsion Remover and follow directions.
Or after making sure all the ink has been removed from the screen, soak the screen in full strength household bleach for exactly ten minutes. Midway though the ten minutes, scrub both sides with a soft nylon bristle brush. At the end of the ten minutes, use a maximum pressure hot water spray to remove the emulsion from the screen. Using a soft bristle brush and automatic dishwasher detergent (such as Cascade, etc.) scrub both sides of the screen. Rinse with maximum pressure hot water spray.
These recommendations are provided as a courtesy and Lenz Arts, Inc. assumes no liability for their use or misuse.