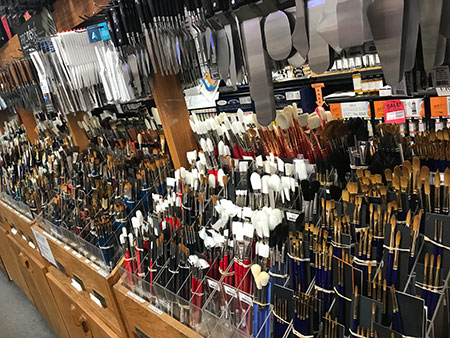 BRUSHES: We have approximately 10,000 brushes in stock! Artist brushes, foam brushes, sets of brushes. Winsor & Newton, Isabey, Princeton, Escoda, Connoisseur, Raphael, Robert Simmons, Grumbacher, DaVinci, Richeson, Fibinacci, Royal Langnickel, Silver Brush, FM Brush, and more!
ADHESIVES: Masking tapes, Scotch tapes, double-sided tapes, ATG tape, archival hinging tapes, document repair tape, 3M spray adhesives, liquid glues, rubber cement, super glues, PVA, adhesive sheets, etc.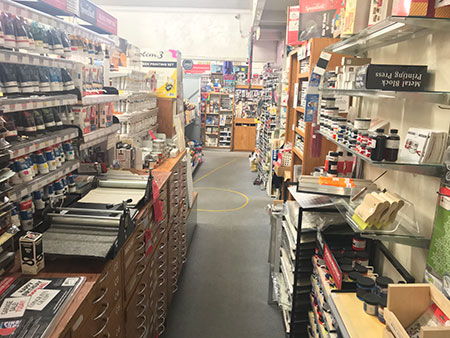 PRINTING/PRINTMAKING: Screen printing materials and inks, Screen printing sets, etching inks, scribes, linoleum blocks, linoleum cutters, brayers, block printing inks, etching inks, etching tools, tarlatan.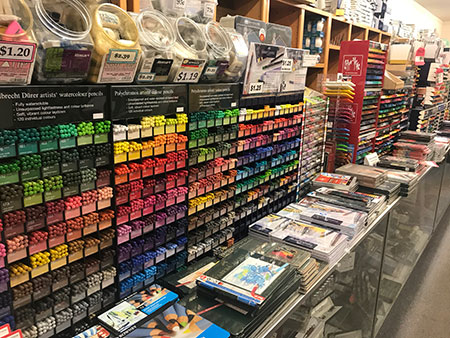 PENCILS: This is just a sampling... Graphite pencils (Turquoise, General's, Cretacolor, Design, Derwent, Stabilo), wax/oil-based colored drawing pencils (Faber-Castell, Prismacolor, Derwent, General's, Caran d'Ache, Lyra, Pentalic), colored drawing pencils (Verithin, Col-Erase), water-soluble colored pencils (Caran D'ache, Cretacolor, Derwent, Stabilo) and water-soluble colored crayons (Caran D'ache, Cretacolor), drafting pencils. We have a TON of pencils and sets!!
MARKERS·PENS·INKS: Markers, Paint Pens, and Writing Pens (Sanford, Pentel, Uchida, Pilot, Niji, Marvy, Zebra, Itoya, etc.), Technical Pens, Inks (Pelikan, Higgins, Koh-I-Noor, Dr. Martin's, Winsor&Newton, F.W., Liquitex, Sennelier Shellac, etc.), Nibs (calligraphy, writing, sketching), etc. Molotow, Posca, Montana, DecoColor, and more!
DRAFTING: Vellum, Mylar/polyester, triangles, T-squares, scales, Drafting Tables and Parallel Boards, rulers, compasses, protractors, lead holders, leads, drafting dots, etc.
SIGN MAKING: Vinyl Letters, Sheets of adhesive Vinyl, Stencils, etc.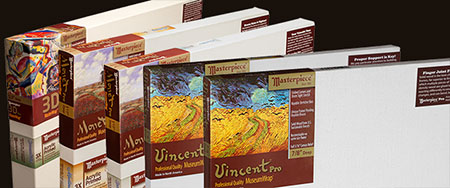 CANVASES: We have the second largest selection of Masterpiece Canvases in the world! We also stock Winsor & Newton Classic Canvases as well as Frederix Watercolor Canvases. We stock well over 1,500 canvases! Prestretched canvases in several bar weights also available with linen (rectangles, squares from 3"x4" to 4´x6´ and ovals too). Plus our frameshop can stretch custom sizes for you.
(Lenz Arts Masterpiece Canvas General Selection)
(Lenz Arts Winsor & Newton Canvas Selection)
STRETCHER BARS:
Stretcher Bars from 8" up to 60" in standard weight, heavyweight bars from 12" up to 120"!
CANVAS/LINEN BY THE FOOT/ROLLS:
We raw cotton canvas, raw linen, and also primed cotton canvas by the foot. We also have an assortment of cotton and linen in rolls.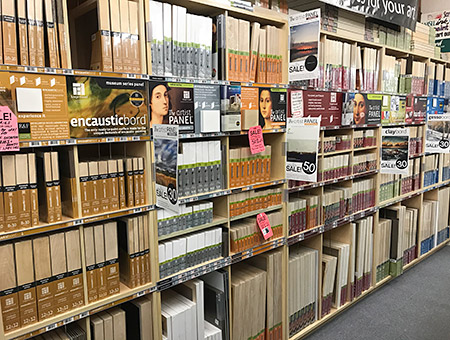 PANELS:
We have thousands of Ampersand brand panels—cradled and uncradled—for paintings and crafts in a wide variety of surfaces: raw, gesso, clay-coated, encaustic surface, wet-media (watercolor) surface. We also have a smattering of other brands.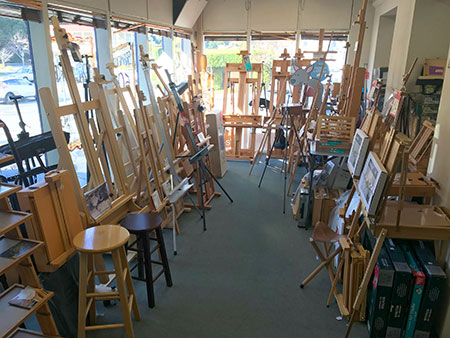 EASELS: Full range from tabletop to deluxe double-mast studio easels. Best, Testrite, MABEF, Art Advantage, Pro-Art, Winsor & Newton, etc. At least 30-50 on display at any time.
SCULPTURE: Wood, Plaster, Ceramics, and Stone Carving Tools, Ceramics clay, oil-based and oven hardening clays (Sculpey, Fimo, Premo), air-hardening clays, etc.
CRAFTS: Plaster gauze, pipe cleaners, popsicle sticks, resin, liquid latex, wood-burners, shaped punches, stencils, etc.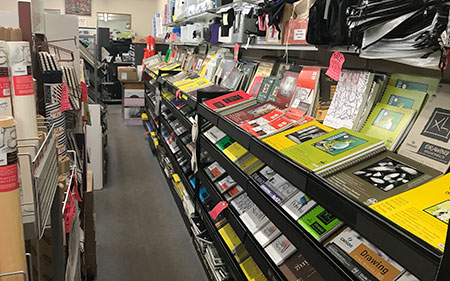 PAPER: Rolls, Pads, Specialty Papers, Watercolor Blocks, Origami Papers, Hardbound Sketch Books, Watercolor papers, Drawing Papers, Bristols. Strathmore, Canson, Arches, Winsor & Newton, Rowney, etc.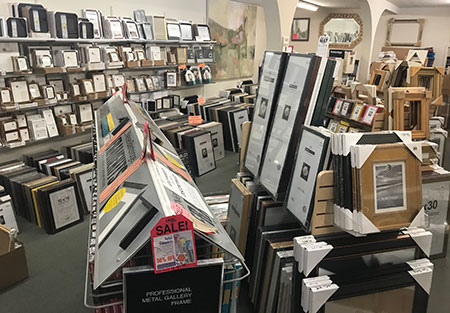 FRAMING: A room devoted to 2,000 pre-made frames, thousands of pre-cut mats, aluminum sectional frames (8" to 40"), a variety of mat cutters (Logan, Dexter). Thousands of matboards ready to cut. We also have a full-service professional custom frame shop.
MATBOARDS: One of the largest retail selections of matboards in the United States (Bainbridge, Crescent, and Canson brands), foam-core (on sale cheap!) up to 48"x96", railroad boards, illustration boards, poster boards, Museum Boards (Strathmore, Rising, on sale at over 50% off of list price!), presentation boards, science project display boards.