Testimonials
Read what our picture framing customers are saying. We are very proud of the reputation we've earned over the last five decades and we work very hard to keep it polished.




"The young man who helped us was quite knowledgeable and explained quite precisely the process and the pros and cons of various options. I felt confident in leaving my work of art (special meaning to me) with him and your staff."
Sherrie Packer, Santa Cruz




"The end result of [the designer's] suggestions for frame & mat is gorgeous. He took a lovely watercolor and made it a real standout framed work. I also appreciate the consistently great work you all do."
Customer, Aptos




"Pleasant experience, people were friendly and helpful; price was affordable."
Edward Fannin, Danville



"Staff was terrific, they helped me make a wonderful choice in frames and mattings."
Claudia Place, Santa Cruz




"Yes, there is no question [I am delighted with the quality]! All your personnel are fun, informative, helpful and a pleasure!"
Bob Tanner, Boulder Creek




"I love your business."
Customer



"Like all my many framing orders—this was just as I hoped it would be."
Allen Reames, Scotts Valley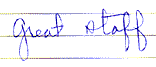 "The young man who assisted me with my painting was extremely helpful and patient. You have no idea how unconcerned many [non-Lenz] salespersons have become and this young man was certainly the exception!"
Lana Cooney, Santa Cruz




"Great—courteous, helpful staff; quick execution of order; quality finished product."
Customer



"Good quality framing. Staff was great, very helpful, knowledgeable and patient!"
Toni DeBiasi, Santa Cruz
"You are always helpful and turn around a beautiful finished product. I have moved to Santa Clara, but still prefer to give all my special framing projects to you folks because I know it will look perfect. The trip over the hill is worth it."
A. King, Santa Clara



"Your staff is always friendly, helpful and never rushed."
Customer, Santa Cruz




"Think that even if you were to do a schlocky job—and I've been in before so I know the work you do—it would still come out perfect."
K.S., Santa Cruz
This quote was after explaining why we generally don't do fittings (complete assembly) while people wait.







"Very detail oriented. Excellent"
Customer, Santa Cruz



"I always get quality service—lots of time spent with me. I've had several pictures framed and have never been unsatisfied."
Cindy Adams, Santa Cruz