A Few Design Examples
We can beautify any of your personal items. On occasion, we are given the opportunity to fully explore our creativity—both in the aesthetic and in the engineering sense through our expert staff and first-rate equipment. Here are a few examples:



The Royal Family Christmas Card
Our client wanted to present this greeting card signed by Prince Charles and Lady Di in a manner that was elegant and yet preserved the sense and value of the card itself. This card was carefully secured with cotton thread discretely at the corners and fold so that it could sit in a three-dimensional posture. This card can easily be removed from its mounting without any damage to the piece itself. In addition to its preservation, the design incorporated red velvet and an ornate gold frame to give the completed piece a nobility and sophistication that the card deserved.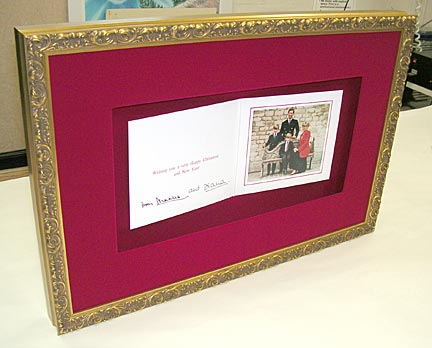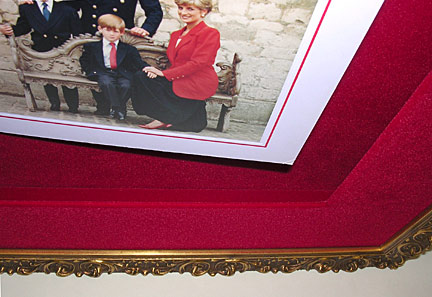 The Kimono
Here our client wanted to show off this prized kimono yet protect it from any damage. We chose to present this full-size kimono as kimonos are customarily displayed in museums. It was hung from an acrylic rod in front of a custom mounted fabric backing board that highlighted the intricacies of the robe. The backing was then secured inside of an oversize custom fabricated acrylic (Plexiglas) box. The outcome of this project delighted our customer, and it later became featured in one of the framing trade magazines.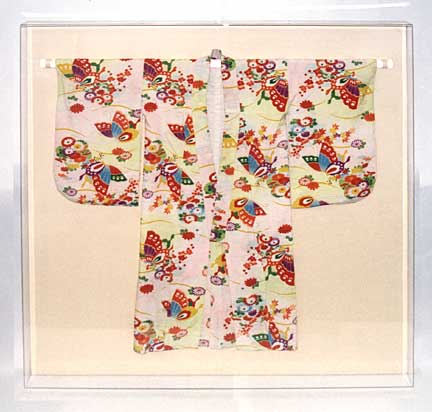 The Lit Glass Award
Ecology Action of Santa Cruz wanted to protect and enhance their state award which features the signatures of both former governor Gray Davis and current governor Arnold Schwarzenegger. By combining two mouldings, we constructed a special shadowbox frame with enough depth to accomodate such a large award. The award then stood on an illuminated pedestal giving the glass award a subtle glow while the darkened fabric lining made the engraving legible at far distances.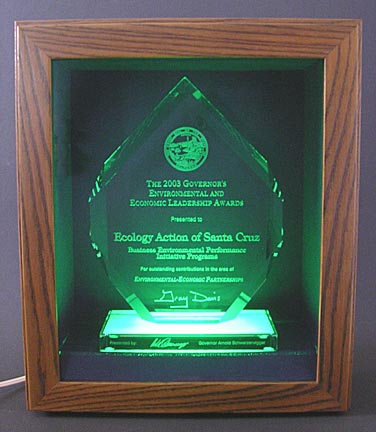 The Signed Santana Poster & CD
One way in which our staff's creativity helped this client to create a knockout finished piece for this signed Carlos Santana poster and CD was to raise this double mat away from the work to give it a dramatic three-dimensional feel. Two initials: C. S. were carved into the mat personalizing its encasement and expanding upon the artistic manner of the work itself.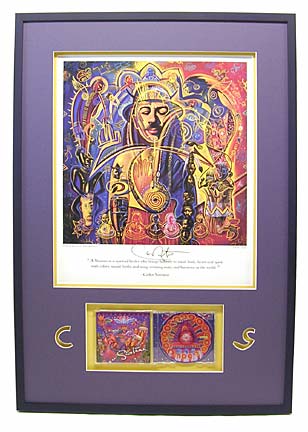 The Laminated World Map
This client wanted their very large three-section world map mounted to a warp-resistant board and then finished with a protective laminant film. A frame complementary to the room's decor was selected. Once finished and delivered to its location, we hung it on-site with a special security hanging system.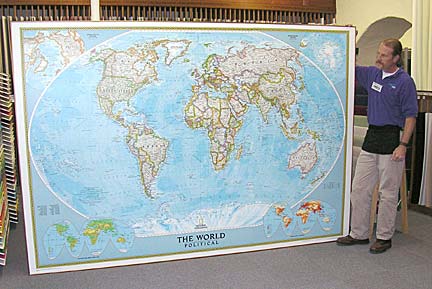 The Laminated Monterey Bay Map
Here is another example of what can be done with lamination. This client needed their nineteen separate map sections to be precisely trimmed to be fitted to form one complete map. It was dry mounted to three warp-resistant boards and then each laminated. Its final size covered approximately 63 square feet.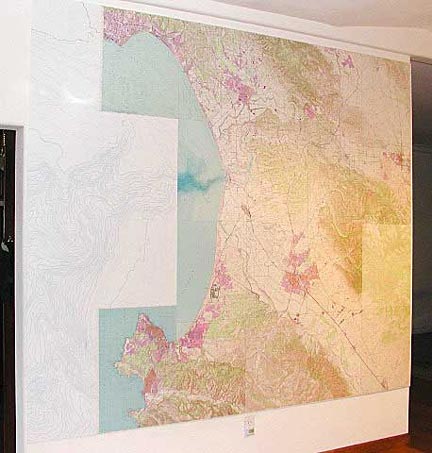 The U.S. Flag
One of our clients wanted to give this flag an elaborate design because of it's personal significance. The immediate response was to draw out the beauty of the folded flag. A triangle "cubbie" was built to enhance it's crisp and aesthetically pleasing shape. We then secured the flag by sewing it to the backing board —a process which is easily reversible. The frame face was then painted blue to match the blue field of the flag.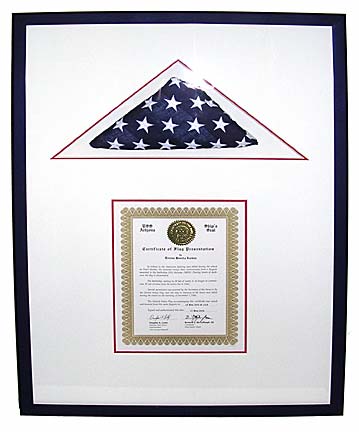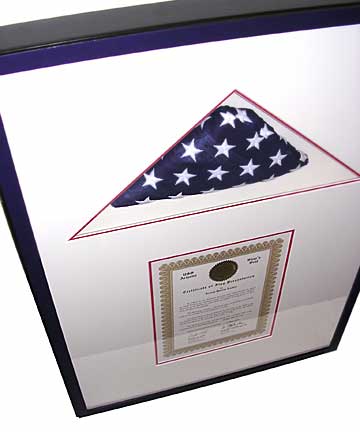 The Calvin & Hobbes Cartoons
Several Calvin & Hobbes cartoons, which a woman's husband had clinged to for years, featured the topic of his hobby—model airplane building. Since the original newsprint would gradually yellow, we opted to frame color copies instead. We suggested integrating assorted model airplane instructions and parts which resulted in a very unique and well-received birthday present.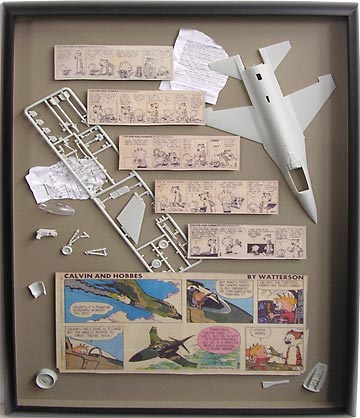 We'll be happy to put our shop to work for you, whether it's a simple framing project or a real head-scratcher.