In-Store Lecture Demo!
Golden Brand Acrylics - $5/FREE*
Saturday, August 27, 1-3 p.m.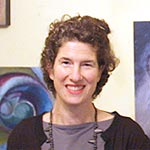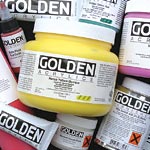 *Your $5 registration fee is refunded on the day as a credit toward any product in our store!
Judy Gittelsohn, our presenter, has been painting in Northern California for over 30 years. She has now has her own gallery in Watsonville. Her paintings have been published in TIME magazine and Metropolitan Home Magazine.
She will demonstrate and discuss Golden Acrylic paints including Golden's new exciting SoFlat Acrylics. Judy demonstrates up and down the West Coast. Learn more about Judy at her website: judyg.com
We will have lots of one-day sales on the day of the demonstration! Plus a free raffle and free samples for those who attend the demo!
Registration required. Masks are recommended for attendees, but not required.
REGISTRATION:
Important! You must register to attend!
• All seating will be reserved and limited.
• Please use the "Buy Now" link below to register. Remember to fill in your name and phone number. If you have trouble, call us and we can take care of you.
More demos coming!
---
Want notices of our demonstrations and classes?

Sign up for our demo email list!

You'll hear about our demos and we'll include news, art information, specials, some humor and otherwise keep you in touch with happenings at Lenz Arts, the art mecca of Santa Cruz!