In-Store Demo - Free!
Art Journaling - Tricks of the Trade
Saturday, February 9, 1-3 p.m.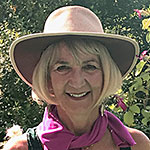 Having taught multiple classes on Art Journaling, led field trip paint-alongs, and completed stacks of her own Art Journals, Ruth Korch is a wealth of information on Art Journaling. A passionate lover of letterforms, she loves to help people incorporate words onto their journal pages. She also loves helping people realize that there are multiple ways to enjoy Art Journaling and to help them find the way that works best for them.

Ruth will be demonstrating an Art Journaling page, not only done in a number of different styles, but in a variety of different mediums. She'll be answering questions like "What do I do if I want to put something in my journal, but only have a few minutes because I'm traveling with someone?," "What kinds of hand lettering work well on Art Journaling pages?," and "How in the world do I begin to capture a vast complicated scene in front of me on a small journaling page?"

Come learn some insider tips and tricks for enjoyable Art Journaling, browse through her journals, ask questions and ultimately get inspired for creating your own unique Art Journals.
Ruth Korch is a local professional artist, calligrapher and art coach. She relishes the variety and continually changing combinations that these roles provide. You may have taken one of her classes in her home or at the Santa Cruz Art League, visited her studio during Open Studios, or seen her artwork on past years' posters of the Capitola Begonia Festival. Her medium choices are varied, but most often she finds expression in watercolor. She especially enjoys the pairing of text and image, and the endless possibilities of combining the power of words with the impact of visual imagery. One of her very favorite ways to do this is with her Art Journaling – capturing every day moments in life and adding beautiful hand lettering to record and remember. She recently traveled with her husband across France, filling her art journal with scenes and moments to treasure and revisit.

In addition to her own studio work, she finds great fulfillment in teaching and coaching others in the creative process. She has created ART SPA – "A unique day filled with art, gourmet food and nurturing the creativity within you." Ruth has an on-going calendar of classes in Art Journaling, calligraphy and watercolor. She also teaches group creativity events. You can see her work at www.ruthkorch.com
And remember that we will have lots of one-day sales on the day of the demonstration!
---
In-Store CLASS - Free!
Drawing for Absolute Beginners
Saturday, Feb. 16, 1-3 p.m.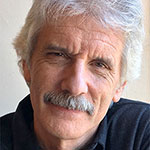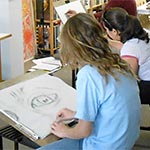 The easy-going and encouraging Rob Court, local drawing coach from The Scribbles Institute, will be conducting a hands-on introductory drawing class for people who are scared of drawing. He'll cover how to hold a pencil, drawing from observation, and basic composition. This is a session for rank beginners!
Class space is limited so registration is required. The class is free but there is $5 deposit which will be refunded in the form of a store credit when you arrive for the class. ("No-show = no dough!") Students are required to have a 9x12 sketch pad and 2B, 4B and 8B drawing pencils. Students may buy a sketch pad at 30% off for the class!
Please stop by the store or sign up online for our demo reminder e-mail list!
---
And more demos coming. . . check back for more information!
Want notices of our free demonstrations?

Sign up for our demo email list!

You'll hear about our demos and we'll include news, art information, specials, some humor and otherwise keep you in touch with happenings at Lenz Arts, the art mecca of Santa Cruz!