In-Store Demo - Free!
Favorite Tools of a Travel Sketcher
Saturday, August 22, 1-3 p.m.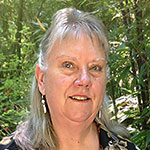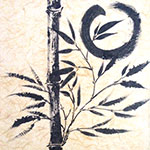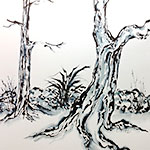 Carolyn Fitz has a passion for "out and about" sketching! Quick, loose and spontaneous is her fun, joyful style. She will cover a lot in her presentation, demoing and sharing her favorite sketching supplies as she goes, from pens to paper to art materials you have never thought to try yourself!
Carolyn Fitz enjoys teaching a variety of classes through Cabrillo's Extension program. She teaches Travel Sketching, Sumi-e, and Calligraphy. She taught Sumi-e (Japanese Ink Painting) in Yosemite, one week per year, from 2000-2013, as artist in residence thru the Yosemite Conservancy Art Program.
Come enjoy an afternoon of fun sketching demos—you might get some new ideas!
And remember that we will have lots of one-day sales on the day of the demonstration! Plus a free raffle for those who attend the demo.
---
Drop-In Hands-On Opportunity - Free!
Strathmore Paper/Gelli Plate Demo
Saturday, August 29, 1-3 p.m.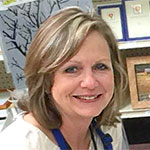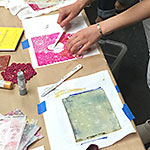 Kari Foteff has been a senior factory representative for Strathmore Paper Company for many years, so she's no stranger to the arts!
Learn how to use the Gelli Printing Plate with Strathmore's great Printmaking Papers and Printmaking Greeting Cards. The somewhat-new Gelli Plate allows you to create beautiful monotype prints without a press—using materials you already have in your studio!
Drop in whenever you want between 1 p.m. and 3 p.m. for this hands-on demo. Please bring apron or clothes you don't mind getting paint on!
Come, Create, Take it Home!
And remember that we will have lots of one-day sales on the day of the demonstration!
---
Old Master's Techniques in Sculpture
Saturday, Sept. 12, 1-3 p.m.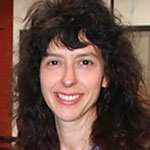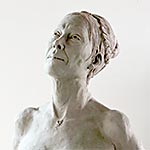 Lisa Silas, from The Neoteric Renaissance Arts Cooperative, will be presenting a demonstration of clay building for the figure and how to stand and apply the perspectives in the round using methods she learned from The Florence Academy of Art as well as methods she has developed in the last 10 years of studying the art form of sculpture. She will also be showing a slide presentation of classical realists artists, the present age and back through the 19th century and Renaissance. All the artists have mastered sculpture in different ways and inspire the present day sculptor.
Lisa Silas, and Matthew Riggs teach a full time program designed to provide the student with a great understanding of the techniques it takes to create a realistic work of art. This is a time honored, focused, challenging arts program for the artist willing to work to extraordinary lengths and push themselves to great levels.
We will have lots of one-day sales on the day of this demonstration!
---
And more demos coming. . . check back for more information!
Want notices of our free demonstrations?

Sign up for our demo email list!

You'll hear about our demos and we'll include news, art information, specials, some humor and otherwise keep you in touch with happenings at Lenz Arts, the art mecca of Santa Cruz!