In-Store Demo - Free!
Drawing Papers, Pencils & Materials
Saturday, June 3, 1-3 p.m.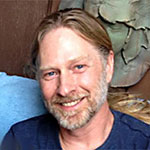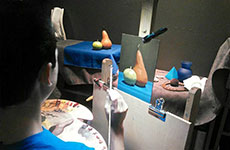 Atelier Instructor Gabriel Coke has been introducing children as young as 12 years old to oil painting.
Gabriel will demonstrate a variety of methods possible according to how drawing materials perform on different surfaces. Papers of various shades of gray and blue create unique visual affects when used in different ways.
Charcoal, Chalk, Graphite and Vine Charcoal can be used on a variety of papers. Also, The use of color pastels on sand covered paper to acheive realistic skin tones will be practiced.
We will also look at what middle school and high school art students have accomplished in a variety of drawing mediums.
Gabriel Coke uses these methods to teach drawing and Painting at NUMU Atelier in Los Gatos, CA.
Gabriel also arranges quite a number of exceptional artists who come and do workshops at the museum in Los Gatos where he is a director: NUMU Visiting Artists. It's very much worth checking out!
---
In-Store Demo - Free!
Sennelier Pastels
Saturday, July 1, 1-3 p.m.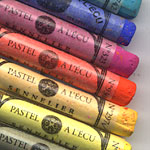 Camille LaPointe-Lyons, who teaches under-graduate and graduate classes at the Academy of Art University in San Francisco, will demonstrate and discuss Sennelier soft pastels. Camille demonstrates up and down the West Coast. Learn more about Camille at her website:
www.camillelapointelyons.com
Please stop by the store or contact us to sign up for our demo reminder e-mail list!
And remember that we will have lots of one-day sales on the day of the demonstration! Plus a free raffle and free samples for those who attend the demo!
---
And more demos coming. . . check back for more information!
Want notices of our free demonstrations?

Sign up for our demo email list!

You'll hear about our demos and we'll include news, art information, specials, some humor and otherwise keep you in touch with happenings at Lenz Arts, the art mecca of Santa Cruz!