In-Store DEMO - Free!
General Pencil - Painting with Pencils
Friday, September 9, 3-5 p.m.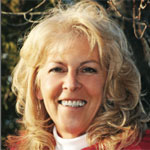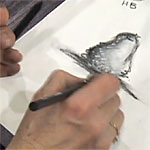 General Pencil presents a fun afternoon of "Painting with Pencils" with Artist and Demonstrator Kathi Hanson!
This workshop includes interactive demos and quick & easy hands-on exercises using water-soluble graphite and Kimberly® Watercolor Pencils. Learn 12 cool techniques for creating unique visuals with Watercolor pencils AND 8 different ways you can manipulate a Sketch & Wash® pencil to create painted effects, unique textures, patterns, bold accent lines, grisaille effects, controlled value exchanges, and more. Join us for a fun filled afternoon of unique pencil "painting"!

Drawing/painting tools included. Attendees will get to keep key basic materials!
Learn more about Kathi: kathihanson.com
And remember that we will have lots of one-day sales on the day of the demonstration!
A note on parking. Given that this is a weekday demo, we need to ask you to park at Holy Cross Church and walk down. We need to keep our lot open for in-and-out customers—we have to pay the bills!—and demo attendees who have issues walking.
---
Encaustikos Encaustics
Saturday, September 10, 1-3 p.m.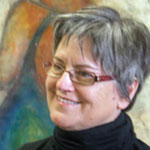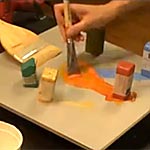 Judy Stabile will demonstrate and discuss painting with wax—known as encaustics. This is a very old medium that has experienced a resurgence in recent years.
Judy Judy is a co-founder of Wax Works West and holds a B.A. in Fine Arts from San Jose State University. She has studied at the Marble and Art Institute in Pietrasanta Italy; the Nicoli Studio in Carrara Italy; and at the Vaugel Sculpture Studio in Maulevrier, France. She has studied glass at the Corning Museum of Glass in New York and at the Bullseye Glass Factory in Portland Oregon. Her love of media extended to encaustics when she studied at an ecaustics factory in New York. Exploring a variety themes and forms, she works in encaustic, glass, mixed media, stone, bronze, acrylic and printmaking. She is an active community volunteer serving on the Board of the Pajaro Valley Arts Council. She has curated seventeen exhibits for PVAC. She currently serves on the Arts Commission of Santa Cruz County, representing the 4th District. Learn more about Judy at her website:
judyastabile.com
And remember that we will have lots of one-day sales on the day of the demonstration! Plus a free raffle for those who attend the demo.
---
And more demos coming. . . check back for more information!
Want notices of our free demonstrations?

Sign up for our demo email list!

You'll hear about our demos and we'll include news, art information, specials, some humor and otherwise keep you in touch with happenings at Lenz Arts, the art mecca of Santa Cruz!