In-Store Demonstrations - Free!
Strathmore Papers - The Essentials of Paper
Saturday, September 20, 10:15-11:45 a.m.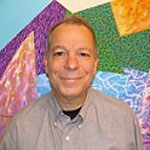 Glenn Brill, Artist Educator for Strathmore Artist Papers™, will present The Essentials of Paper, a hands-on presentation on Strathmore Drawing and Watercolor Papers. The presentation will focus on how a paper's fiber, weight, texture, surface, grade and permanency affect an artist's choice and usage of fine art paper. Attendees participate in hands-on exercises, using a selection of papers and drawing materials. The goal of the presentation is to provide information to help artists select the right papers for their medium and techniques.
The presentation will cover all aspects of fine art drawing papers including:
History of Writing Surfaces: parchment to papyrus to paper
History of Paper: from China to Europe
How Paper is Made: past and present
Handmade paper vs. Machine made paper
Components of Paper: fiber, watermark, surface texture, sizing, weight, permanence.
Environmentally friendly papers and alternative fibers: cotton, wood, hemp
Types of Paper: newsprint, sketching, drawing, bristol, illustration, charcoal, pastel, watercolor, mixed-media, printmaking
Grades of Paper: 300 , 400, 500 Series: for students, artists, professionals
Paper Storage
About the Presenter:
Glenn Brill has presented over 300 educational presentations throughout the U.S., Europe and Asia. Currently an Adjunct Professor at San Francisco State University, Glenn has also taught at California College of the Arts, San Francisco Art Institute and University of California at Hayward. Glenn has been involved in art material product development and education for over 15 years. He has worked for some of the premier art material companies as Director of Education, helping to develop and test oil and acrylic paints, brushes, canvas, paper, and drawing materials. Glenn has been the recipient of two National Endowment for the Arts Visual Fellowships, Author of "Beyond the Brush" and co-author of "The Acrylic Handbook". His artworks are in the permanent collections of the Archives of American Art, Brooklyn Museum, San Jose Museum and Phoenix Art Museum. Glenn holds a BFA from the California College of Arts and Crafts, an MFA from Cranbrook Academy of Art and is a Tamarind Master Printer. His work can be viewed at: glennbrill.com.
And remember that we will have lots of one-day sales on the day of the demonstration! Plus a free raffle and free samples for those who attend this demo!
---
Drawing for Absolute Beginners
Saturday, September 27, 1-3 p.m.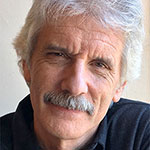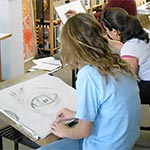 The easy-going and encouraging Rob Court, local drawing coach from The Scribbles Institute, will be conducting a hands-on introductory drawing class for people who are scared of drawing. He'll cover how to hold a pencil, drawing from observation, and basic composition. This is a session for rank beginners!
Class space is limited. The class is free but there is $5 deposit which will be refunded in the form of a store credit when you arrive for the class. ("No-show = no dough!") Students are required to have a 9x12 sketch pad and 2B, 4B and 8B drawing pencils. Students may buy a sketch pad at 40% off for the class!
We will have lots of one-day sales on the day of this demonstration!
And more demos coming. . . check back for more information!
Want notices of our free demonstrations?

Sign up for our demo email list!

You'll hear about our demos and we'll include news, art information, specials, some humor and otherwise keep you in touch with happenings at Lenz Arts, the art mecca of Santa Cruz!