Lift Systems CD Jewel Case Display Racks
We have closed our electronics department to expand our art materials selection.
We have three (3) Lift Systems Compact Disc display racks available for sale. They are in good condition and hold up extremely well. They sold new for well over $1,000 per unit. We're selling them for $500 each.
You can visit the European manufacturer's website

.
Each rack's dimensions are: 84"H (+-1") x 49.25"W x 24"D.
The top portion of the rack displays 72 CDs (8 across by 9 down) and the bottom portion holds 264 CDs (8 across by 33 deep) for a total of 336 CDs per rack. (Three racks will hold 3,008 CDs.)
Units are lit with flourescent lights at the top. Logo reads "Compact Disc" on the header.
Each unit has locking doors at the front (see image below). There were two end panels for the racks that were placed at the extreme right and left that seal the storage area under the row of racks. This meant that if the racks are not situated in a row as seen in the image below, customers could reach into the storage area. The two end panels were sold. Additional end panels might be still available from Lift Systems or some may need to be fabricated.
Buyer pays for shipping or can simply pick up with a large truck. (We are about 90 south of San Francisco, CA). The racks weight about 120 pounds each and disassemble for moving. Freight charges for a destination on the West Coast would run between $400 - $600 total for all thee units.
You can contact us either by phone with any inquiries at (831) 423-1935, ask for Andrew or use our contact form.
This page last updated December 27, 2004.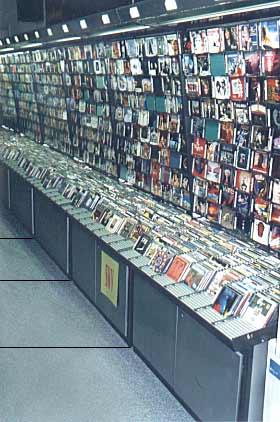 The black horizontal lines in this picture delineate individual racks.